NEW RINK
February 25, 2022
THE FUTURE OF FORT DUPONT ICE ARENA (FDIA): What we know; how we got here; and where we go from here
A week ago, FDIA board members received surprising and devastating news from the District of Columbia: the City's plan for constructing our new ice rink would double the budget for half the original project and possibly take twice as long to build.
The original budget for our 2-ice sheet rink in 2013 was $15M. The District's new plan for a 1-ice sheet rink is $37,500,000 … that's the per-square-foot cost of a New York City skyscraper!
The construction period jumped from 12–18 months to a "best guess" of 27 months.
In 2017, the District increased the budget to $25M, while narrowing the project scope to one ice sheet. City officials refused to share information with FDIA or consult our experts in rink management and operations, even though no one on their team had experience in building community ice rinks.
The longer construction timeline far exceeds all industry standards for a typical community rink.
After learning this month that costs continued to explode, without explanation or budget details, Fort Dupont's board decided it could not allow the District to demolish our well-loved, if well-worn, facility next month.
We simply don't have confidence that the District will build the new rink at all —
That is why, instead of closing after today, we will return to our regular seasonal schedule, with skating programs continuing through March 2022 and restarting this summer.
It's possible the District will take our pleas to heart and meet to see if there's a reasonable path forward for the new rink. We are always ready to talk. And we will always put our "kids on ice," their families, and our "east of the river" communities first.
Click here to read our full "Future of FDIA" update.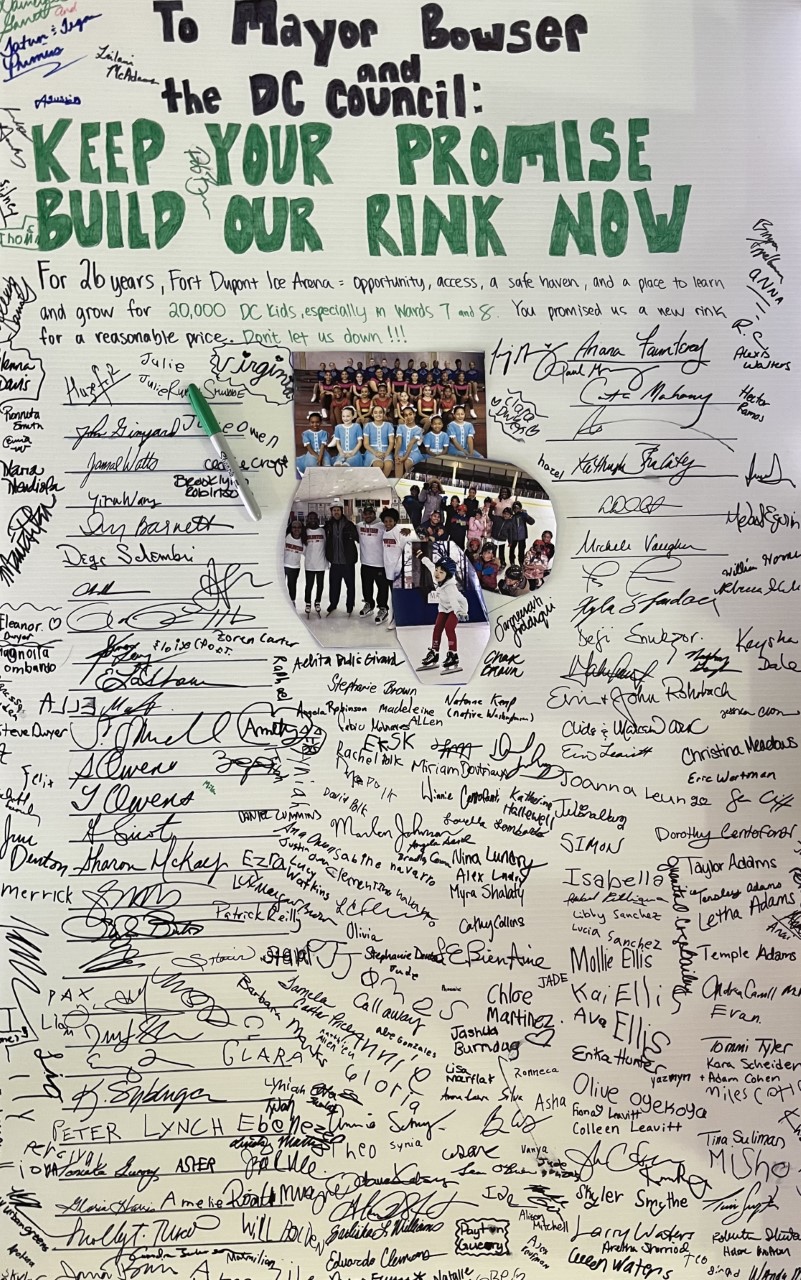 Letters of Support – We're posting notes from supporters here and will be adding each day!
Send a hockey puck to Mayor Bowser and/or Ward 7 Councilmember Vincent Gray, with a note to build our new community-focused rink for a reasonable cost. Address: 1350 Pennsylvania Ave., NW, Washington, DC 20004 (add Suite 406 for CM Gray).
Hockey pucks will be given out at Fort Dupont Ice Arena on Saturday, 2/26 (during Kids On Ice) and Sunday, 2/27 (during public skate).
Councilmembers Emails:
Additional Resources and Information
For more information, please contact Jordan Graham at jgraham@fdia.org or 202-584-5007